Cosmetic Dentistry in Plano, TX
Get a smile makeover with our cosmetic dentistry services. We can whiten, brighten, straighten, or completely change your smile depending on your goals. Dr. Bafna and Dr. Doshi love seeing the look on the faces of our patients when they finally have a smile they love showing off, so let us help you!
Contact Us
Plano Invisalign®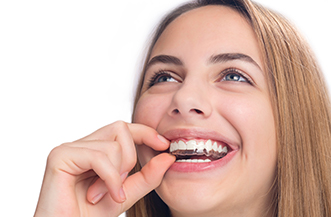 Clear orthodontics are an excellent way for adults to straighten their teeth without the hassles of metal braces. Dental Studio 121 provides Invisalign® clear aligner therapy to fix a variety of mild to moderate spacing and alignment issues.
Invisalign® uses a series of clear plastic aligners to gently and gradually move teeth into more ideal positions. We'll start by bringing you in for a consultation where we'll decide on your goals for your smile. From there, we'll have a lab make our first few sets of aligner trays. Every few weeks, switch out the trays for the next set in your series. You'll come back in for a check-in appointment every four to six weeks. At these appointments, we'll give you your next few sets of aligners. In just about a year or so, your treatment is over and you'll have a new smile!
Benefits of Invisalign®
Clear trays are virtually invisible
Smooth plastic won't cut cheeks or irritate gums
Removable aligners let you eat your favorite foods and brush and floss your teeth like normal
Treatment only takes about a year on average*
There are fewer check-in appointments compared to traditional braces
*We'll discuss your unique case and treatment time during your consultation.
Schedule a Consultation
---
Porcelain Veneers in Plano, TX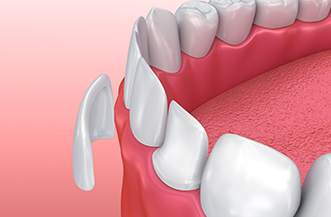 We can use porcelain veneers to change your smile in nearly any way you can imagine. From closing gaps and covering chips and cracks to lengthening teeth and whitening teeth too discolored for whitening, veneers can practically do it all!
Veneers are thin, durable porcelain shells that we bond to the front side of teeth to change their appearance. Like with most other restorative and cosmetic dentistry procedures, we start with a consultation to ensure that the end result is a smile you'll love. Once we've decided on a look for your smile, we send that information to our lab to have the veneers made. Before bonding, we remove some enamel from the teeth to get a strong bond – that means you should be ready for a permanent change to your smile before we begin!
---
Free Whitening for Life Program
We've seen time and again that patients who maintain their regular dental hygiene appointments and follow recommended treatment plans tend to spend less on dental care on average compared to those who only visit us when there is a problem. It is our goal for each of our patients to not only have a beautiful smile, but to have a healthy smile, too. For those patients who make their routine hygiene appointments a priority, Dental Studio 121 has developed the Free Whitening for Life program. By meeting the new patient activation rules and following the existing patient regulations, you'll receive a custom, professional take-home whitening kit completely free, so you can brighten your smile on your own schedule.
Learn More