Composite Fillings in Plano, TX
Dental Studio 121 strives to provide the best possible dental services to the community of Plano and the surrounding areas (such as Frisco, Mckinney, the Colony, and Allen). If you have a cavity, our dentists at Dental Studio 121 can fix that right up with composite fillings. At your initial visit, we'll discuss all of your options with you and help you choose the best filling for your particular case. In preparation for this discussion, it may be helpful to understand the two basic types of dental fillings — direct and indirect.
Schedule Your Appointment
What Are Composite Fillings?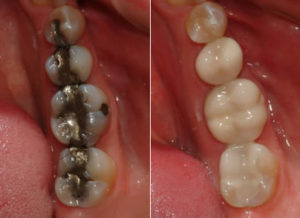 Composite fillings are tooth-colored fillings that are used to repair a tooth that has been damaged, from decay, a chip or something else. Once the damaged part of the tooth is removed, the composite filling is used to fill the tooth, giving it back its original form. Composite fillings can be closely matched to a tooth's existing color and are therefore more preferred for front teeth or other visible teeth. Composite fillings are also durable, lasting for several years, but they may have to be replaced after time. Composite fillings are only one of the many filling options that are available for tooth restorations. Each option has its own benefits and drawbacks, but don't worry. Our dentists at Dental Studio 121 will discuss the different options with you and aid in deciding which option is right for you.
Reasons for Composite Fillings
Chipped teeth
Closing a gap between two teeth
Cracked or broken teeth
Decayed teeth
Worn teeth
How Are Composite Fillings Place?
Composite fillings can typically be placed in one easy appointment. After numbing the tooth, our Dental Studio 121 team will remove any decayed or damaged areas. Before placing the filling, the new space will be thoroughly cleaned. Base & liner materials will be applied to teeth that have decay near the pulp of the tooth. After this preparation, the composite filling will be placed, shaped, and polished, and your tooth will once again have its original shape and function. After receiving a composite filling, you are likely to be sensitive to hot and cold for a short while. Once your tooth acclimates to the new filling, this sensitivity will go away. The Dental Studio 121 team will provide you with care instructions when the procedure is finished. Keeping up good eating habits, regular dental visits, and a consistent at-home dental routine will help extend the longevity of your fillings.
Contact Us