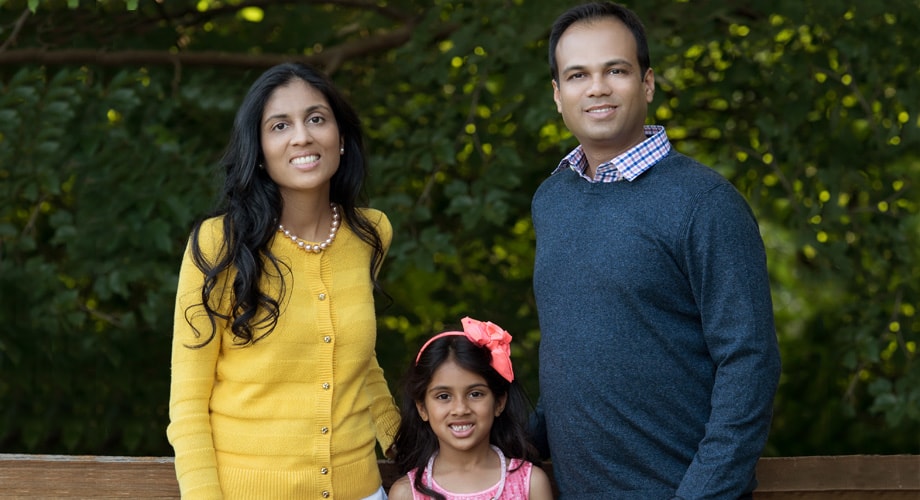 Meet Our Plano Dentists
Our Plano dentists, Dr. Bafna and Dr. Doshi can't wait to meet you and your family. We've put together a friendly and talented team who are here to care for your teeth and give you a lifetime of healthy smiles.
Contact Us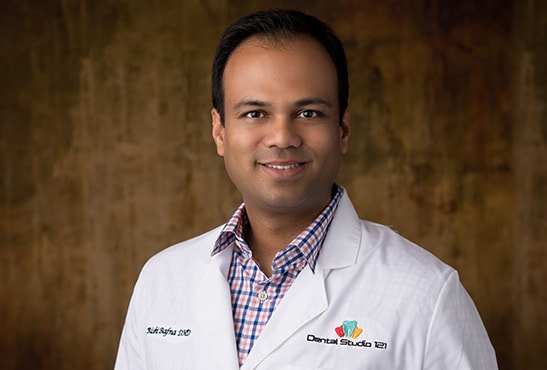 Dr. Rishi Bafna
Dr. Rishi Bafna completed his Masters in Public Health (MPH) from the University of Alabama at Birmingham and then went on to earn his dental degree from Boston University. After practicing for three years in Massachusetts and two years in Maryland, he and his wife visited the Dallas/Fort Worth area and decided to settle down here. Dr. Bafna is a lifelong learner and believes in the importance of continuing education. He has taken additional coursework in implant dentistry (placement & restoration), laser dentistry, root canal treatment, conscious sedation (including nitrous oxide), oral surgery, esthetic dentistry, and more. He currently serves in the US Army Reserves as an officer (general dentist), and he is a member of the following professional organizations:
Dr. Bafna loves his profession and brings that passion and excitement for dental care to the office every day. He enjoys working with both adults and children alike. When he is not working, Dr. Bafna likes to spend time enjoying the outdoors with his wife, Jaya, and their daughter, Riya.
---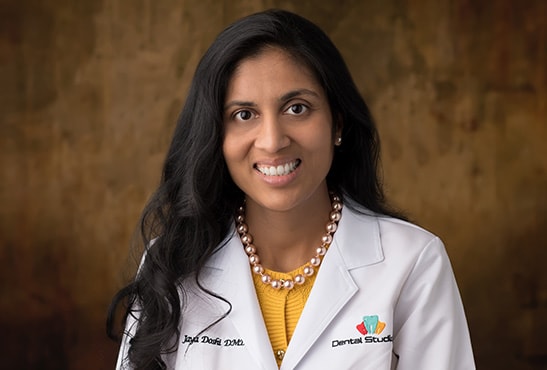 Dr. Jaya Doshi
Dr. Jaya Doshi received Bachelor of Dental Surgery degree from Jamanlal Goenka Dental College and Hospital in Akola, India before moving to the United States to continue pursuing her dream. She earned her Doctorate of Dental Medicine from the Henry M. Goldman School of Dental Medicine in Boston, Massachusetts. It is her mission to provide only the best dental care to her patients, and to always do so with a caring manner and kind spirit. Dr. Doshi prides herself on her ability to build relationships with her patients that are based on trust. She always does all she can to keep her patients comfortable and happy, and to put a beautiful smile on their face. As part of her dedication to excellent dental care, Dr. Doshi stays on the leading edge of the dental field by participating in continuing education courses, including a two-day hands-on endodontics training course and a laser dentistry course. She is certified in implant dentistry, nitrous oxide, and oral conscious sedation. Dr. Doshi is also a member of the Academy of General Dentistry. When she isn't in the office, Dr. Doshi enjoys spending time with her friends and family, including her husband, our own Dr. Bafna, and their daughter, Riya. She also loves cooking and painting. Her favorite quote, which is from Mother Theresa, is, "Three things in human life are important; the first is to be kind. The second is to be kind. The third is to be kind."
---
Meet the Team
coming soon!
---
Visit Our Office